Belden Universal Announces Design and Performance Upgrades for its Pick and Place Universal Joints
Broadview, IL, USA, March 19, 2018 - Belden Universal, a leading global manufacturer of custom universal joints and highly specialized mechanical power transmission products, announces today that it has recently implemented critical design upgrades to its universal joints for pick and place (Delta) robots. The redesign project was necessitated by industry demand (from both OEMs and end users) for space-saving components supporting heavier payloads.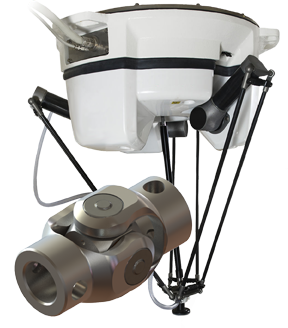 The stainless-steel component is based on Belden's unique hybrid design, combining the higher torque capacity of a pin + block joint with the needle bearing's ability to continuously operate at high speeds with low friction. It mitigates corrosion issues, contamination, burnout, and joint seizure.
The redesign project concentrated on the joint's center section. It utilizes stronger, precision needle-roller bearings with larger outside diameters, making it capable of supporting applications with larger payloads and higher torque requirements. Torsional backlash was minimized according to stringent specifications. Modifications to the yoke's ear profile resulted in a higher, 55° angle, further supporting precise positioning and orientation of the robotic arms. With an overall length of just 48mm, the new universal joint delivers a compact, space-saving design at high strength, speed and flexibility.
The favorable price point and enhanced design qualities make Belden's new pick and place universal joint an ideal replacement for similar components in the marketplace.
For more information about Delta Robot Universal Joints, contact Belden Universal here.
About Belden Universal
Belden Universal is a leading manufacturer of high-quality special-purpose universal joints, drive-shaft assemblies and couplings made to customers' exact specifications. Cutting edge, innovative manufacturing technologies and processes provide Belden the flexibility to produce small batches and custom parts just as cost-effectively as high-volume standard universal joints. Capabilities include customized hub configuration, length or the complete redesign of joints for special applications. Belden delivers solutions to all industries and applications where power is transmitted. Belden Universal joints are available as heavy duty, high strength, leveler strength or needle bearing, manufactured from a broad array of materials and platings. Belden Universal was established in 1997 and is headquartered in Broadview, IL, USA. For more information, visit www.beldenuniversal.com.