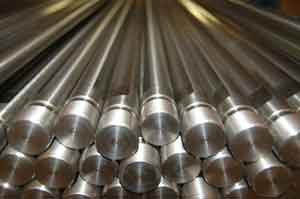 Two of the generally accepted international classification systems for stainless steel grades are the American AISI/SAE system, as defined by the AISI (American Iron and Steel Institute) and the SAE (Society of Automotive Engineers); and the German DIN/EN system (by the German Institute for Standardization). For the purpose of this post, we will be mentioning the AISI system, with the DIN/EN standard equivalents shown as a reference.
300 SERIES STAINLESS STEEL - AUSTENITIC ALLOYS
Austenitic alloys are non-magnetic and, in general, provide a good combination of mechanical strength, machinability, and corrosion resistance. 
While they cannot be hardened by heat treatment, some can be hardened by work hardening. Belden Universal often uses the stainless steel 300 series for the yokes of the universal joints. Pins and Blocks can also be manufactured from these materials if requested, however, the relatively soft stainless steel 300 series typically does not work well for contact surfaces.
AISI 303 [DIN 1.4305]
The AISI 303 [DIN 1.4305] is the standard stainless-steel material of choice for the yokes of Belden universal joints. It offers medium corrosion resistance. The sulfur content in this stainless alloy makes it ideal for machineability, though increases welding difficulty.
AISI 304 [1.4301]
The AISI 304 [1.4301] offers improved corrosion resistance over the 303 grade, however, it is not considered a standard stainless material for Belden's universal joints since it is not as easy to machine as the 303.
AISI 316/316L [1.4404]
The AISI 316/316L [1.4404] is Belden's standard stainless grade for highly corrosion-resistant joints. Yokes, as well as pins and blocks, are made from 316L since an environment that requires such a high level of corrosion resistance would typically not allow the use of boot covers for protection of the pins and blocks.
316L is the low (L) carbon version of 316, making it more suitable for welding and offering slightly improved corrosion resistance but delivering slightly less strength. This is typically countered by the addition of Nitrogen, resulting in the common dual certification of "316/316L" with the strength of the 316L meeting that of the 316 steel.
 
400 SERIES STAINLESS STEEL - MARTENSITIC AND FERRITIC ALLOYS
The 400 series stainless steel Ferritic Alloys are magnetic and, like austenitic stainless steels, cannot be hardened. They are also difficult to weld. A commonly used ferritic stainless steel is AISI 430 which offers great corrosion resistance, rivaling that of the 304 steel.
Martensitic Alloys are also magnetic but can be hardened by heat treating which considerably improves their strength. Since components in the stainless steel 400 series are more difficult to machine in the heat-treated stage, Belden typically first machines then heat treats the joints. We heat treat, then grind / ream the features and contact faces to the finished size. 
AISI 416 [1.4305]
The AISI 416 [1.4305] is a martensitic, magnetic steel. It is Belden's standard stainless-steel grade for the pins & blocks of universal joints. While its sulfur content makes it unsuitable for welding, it provides superior machinability and can be hardened by heat treating.
Since it offers corrosion resistance in normal atmosphere but corrodes when exposed to humidity or water over extended periods of time, pins and blocks should be outfitted with a lubricant-retaining boot. This way, the friction-bearing pin & blocks are lubricated and not directly exposed to the surrounding elements.
The combination of the booted 416 pins & blocks with yokes machined from 303 or 316L stainless steel provides a good material pairing that can withstand highly corrosive conditions.
AISI 420 [1.4021/1.4028]
The AISI 420 [1.4021/1.4028] is also a martensitic, magnetic steel. Due to its higher Chromium content, this material provides higher corrosion resistance than the 416-steel grade. It can be used for both the yokes as well as the pins & blocks and accommodate heat treatment on all components.
 
600 SERIES STAINLESS STEEL - PROPRIETARY STEELS
The most commonly used proprietary steels used by Belden is precipitation-hardened stainless steels. They are used when the corrosion resistance of 416 or 420 stainless steel is insufficient and the 303 or 316 stainless steels are not strong enough.
AISI 630
The AISI 630, often referred to as 17-4 PH (17% Cr / 4%Ni) is a martensitic, magnetic steel. It is Belden's most commonly specified precipitation hardened stainless steel, commonly used in aerospace applications.
It provides good machinability prior to heat treating to high strength and hardness. Resistance increases with aging temperatures used for the heat treatment process. It is highly resistant to stress-corrosion cracking, offering corrosion resistance comparable to that of AISI 304. It is, however, not suited for chloride environments (e.g. pool or sea water).
15-5 PH is also frequently used, offering even higher toughness than the 17-4 PH.
 
DUPLEX AND SUPER DUPLEX STAINLESS STEELS
Duplex and Super Duplex Stainless Steels have a mixed (duplex) martensitic and austenitic microstructure. They combine excellent corrosion resistance with high material strength. Their pitting-corrosion resistance is especially outstanding. Their strength and corrosion resistance increase with higher Chromium and Nickel content. A number often used to reflect pitting-corrosion resistance is the PREN number, calculated as:  PREN = %Cr + 3.3 x %Mo + 16 x %N.
Duplex steels used by Belden Universal:
S32205 [1.4462] (2205/ F51), the standard Duplex steel with PREN of 35
S32750 [1.4410] (F53), A Super Duplex steel with PREN of >40
S32750 [1.4501] (F55), A Super Duplex steel with PREN of >40 and higher strength & Elongation than F53
Questions? Comments? Please feel free to call us at (708)581-7043, or, email us at info@beldenuniversal.com