High Complexity Mechanical Power Transmission Components
Belden is constantly striving for customer satisfaction, and our capabilities extend well beyond the standard product line. We deliver high-performance solutions for our customers' specific applications that meet your exact operating criteria, constructed from a range of materials and platings. We also offer 3D printing solutions for prototying.
Regardless of the customer challenge, Belden is committed to providing a solution. 
Custom Joint Example
A customer was having a problem with a standard needle bearing universal joint during a wash-down phase in a food application.  After discussing operating conditions and specifications, Belden developed a custom engineered hybrid pin & block needle bearing joint made completely out of stainless steel with composite bushings. The hybrid pin & block needlebearing design employs a combination of the higher torque capacity of the friction bearing pin & block with the needle bearing's ability to continuously operate at higher speeds with low back lash and less wear.  The Belden solution now allows customers to have a complete wash-down safe universal joint, while eliminating corrosion issues and contamination, burnout, and joint seizure from premature wear.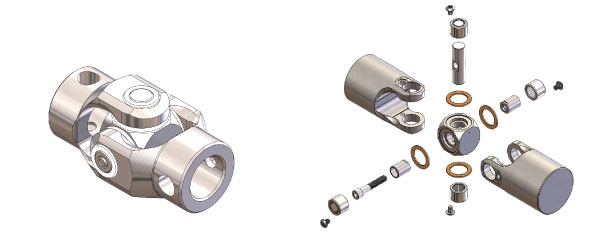 End Hub Configurations
Belden offers a wide variety of end hub configurations. The six most conventional hub types, in either male or female, are available in inch or metric sizes.

Large Size Outside Diameters
Need a larger outside diameter? No Problem! Belden is equipped to manufacture universal joints and shaft assemblies with outside diameters up to 10 inches. Just fill out the RFQ to get pricing and more information from one of our technical sales people.
Quick-Change Feature
A quick-change feature is available on our custom universal joint drive shaft assembly which allows the universal joint to be quickly removed and replaced without tools. This is an essential feature when machine downtime is crucial. The quick-change universal joint consists of two back-to-back single universal joints connected with a spring loaded intermediate shaft. Pinning of outer yokes is not required because the spring tension on the intermediate shafts holds the quick-change universal joint secure at each end.

Materials & Plating Options
Yokes / Hubs can be made from a wide range of materials:
 Alloy Steel
 Various Stainless Steels (Standard is AISI 303), 304, 316L, 416, 420, 17-4, 15-5
 Various Bronze & Brass Alloys
 Various Aluminum Alloys (6061, 7075)
All materials can be plated or additionally treated to improve corrosion resistance or provide other functionality. Some options for plating and surface treatment procedures:
Zinc plating
Nickel plating
Cadmium plating (for aerospace stainless steels)
Black Oxide treatment
Electro Polishing