Belden Universal application specialists spend all day, every day working with customers on specifying and pricing universal joints and drive shafts that meet our customers exacting standards. The goal of this article is to demystify how we determine pricing and lead times for our universal joints and drive shafts. 
How Much Do Universal Joints Cost?
U joint pricing is based on several factors, many of which should not be surprising for fellow manufacturing professionals:
Size
The larger a component is, the more metal is included in that component's cost, and the more machining time is required to manufacture that component.  An exception to this rule is our miniature joints (3/8" OD and smaller), which do require special machining and processing and may cost a bit more than their slightly larger cousins.
Layout (Single U-joint / Double U-Joint / or Driveshaft?)
A single universal joint will cost less than a double universal joint (size, material and hub configurations being identical), and a double will cost less than a driveshaft (which is two single joints connected by a fixed or telescoping shaft).
Fixed length drive shafts can be less expensive if a true double yoke is not available as a standard and small quantities are required. It is more economical to connect 2 single joints with a short shaft into a "butted double joint" than setting up a production machine to produce a few pieces of a double yoke.
Telescoping drive shafts are more complex than double joints or butted double joints. They can be built in several different ways and configurations for example using different profiles for the axial extension feature, with or without springs to keep them at a specific length as well as using different design options for the sleeve / tube, depending on the total length and sliding capacity required. A separate piece could be written on this.
Hub Configuration
More complex hub configurations will usually be more expensive than standard bores (1/2 the OD of the joint, which are regularly stocked items), pilot bores, or solid yokes.  Broached shapes like hex, squares, splines, and keyways can be economical in medium and high volumes but will be more costly than standard bores if you're just ordering a few pieces that are not a standard part. 
Flanges can be welded to hubs for some yoke materials for specialty mating configurations, though these tend to cost a bit more as well.

Special splines, especially involute splines might have to be wire or sinker eroded and often require either gages or a mating part supplied by the customer to ensure correct fit.  Please contact Belden to check for standard splines that can be broached with standard tools as the cost for EDM work is significant. As long as a spline or feature will fit thru the yoke slot (The U-shaped slot of each yoke pointing towards the center of the joint), broaches or wire EDM can be used. Standard shape broaches for keyways, hex or square shapes as well as certain splines are less costly than custom made broaches which usually only make sense for production runs of several hundred parts.
If the shape is larger than the yoke slot, it can be shaped or sinker eroded. The same applies to "blind" bores. Blind bores are used to either provide an end stop to the shaft, increase yoke strength and/or to seal the joint center area additionally to covering it with a boot. This way lubricant can be better encapsulated in the area where it is needed. Blind hub features almost always are more expensive than thru features.
Male spline ends typically have to be hobbed or shaped. In some cases it is more economical to source drawn or shaped spline shaft material that is turned and fixed via spring pin in a yoke with a bore.
Many even more exotic features are typically much more expensive than standard features.
Vacuum Application 
Computer Manufacturing

 Split End Joint for Medical
Application

Bowling Pin Setter
U-Joint

Remote Valve Opening
Offshore Drilling
Material
As a general rule, joints from our common alloy steels (4130, 1144 and 8182) will always be cheaper than joints made from stainless steels (303/304/316).  There might be exceptions for small quantities of joints that require yokes and even pins and blocks made from scratch due to special material processes or machining operations than cannot be done on stocked components. In that case the heat treatment of alloy steel components for small quantities can very well exceed the cost of a joint that would have not been heat treated or just made from (non-heat treated) stainless steels.
Aluminum may be cheaper than alloy steels when run in larger volumes, but generally our common alloy steels are the most economical option.  Higher strength, exotic materials with attractive anti-corrosion properties – such as Super Duplex, Titanium, or Inconel – will generally be the most expensive option.  Consult our sales engineering team to determine whether you can accomplish your anti-corrosion goals without resorting to an exotic material.
Outside Service Operations
Belden Universal is capable of performing most machining operations in-house.  However, many non-machining operations (Heat Treat, Surface Finishing and Plating, Welding) and specialty machining operations (EDM, unusual broach sizes, and certain grinding operations) are outsourced to trusted suppliers with whom we have long-term and trusted relationships.   
Lot Size
Small lot sizes of custom configured parts will cost more than larger volumes due to setup times for each operation and minimum lot charges for outside services.  At large volumes, even the most complex designs can be economically produced.  
Engineered Components 
We stock a wide variety of common needle bearings for our cross & bearing style u-joints. Non-standard bearings, composite bushings, fixed and sliding shafts, ball splines, quick release hubs, and other power transmission components can be included in a design and may affect costs.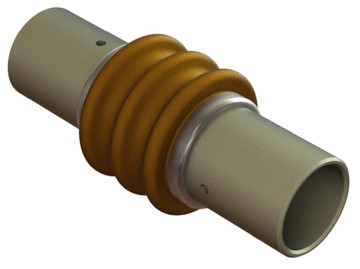 Lead Times
Standard products are those that you will find in our Belden Universal Catalog. These products are generally in-stock (1-3 days) or we have components available to assemble and ship (1-2 weeks).
Semi-Custom products are variations on our standard product line.  These products must be machined to print from blanks or run complete on our production machines, depending on the lot size of the order. If all machining is in-house from blanks, we can usually ship within 3-4 weeks. If outside service is required, or if we are running from bar stock on our production machines, production time can run from 6-8 weeks (standard parts) up to 12-16 weeks (if numerous, long lead time outside services are required).
Custom products can be machined to print from a customer's design, or our engineering team can consult with your engineers to design a suitable part for your mechanical system.  Custom products typically take a bit more time up front to spec and finally lock in the design and quality requirements, but subsequent orders will generally be faster and more economical.  If the custom design includes non-standard engineered components (bearings, bushings, ball splines, weldments), this may also lengthen lead times.
I hope this has been a helpful primer on how much a precision universal joint or drive shaft should cost.  Please contact us for a quote the next time you have a need for a precision u-joint or drive shaft.